This build is an AOSP Froyo 2.2.2 build and Fastest FAT32 Build. This build is also Rooted. Graphics are very good all thanks to Duckly for his kernels i got 24.5 FPS (Without Sound). This build has no Google APPS just Market, Gmail, Voice Search and Voice. Added LauncherPro, SuperUser and OI File Manager. Removed Gallery3D and added Gallery2D for speed.
Build:
Froyo 2.2.2
Kernel:
Duckly's Turbo Kernel (25 March 2011 - Keypad drivers not as modules)
Screenshots: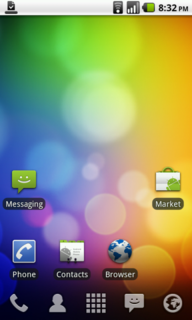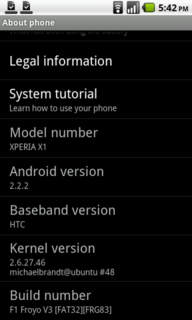 Working:
WiFi
Graphics [24.5 FPS (Without Sound)]
GPS
Market
3G Network
Phone Speaker (If you get problems turn speaker on and off)
3D Acceleration
Bluetooth
Awsome Battery Life
Battery Indicator (Very Accurate)
Smooth Animations
Browser
Gmail
Backlight Control
Overclocked to 652MHz (If you get bootup errors or your Apps crash set the OC value to 600MHz)
Landscape Support
Note:
After the first boot it will be slow so after the first boot right away restart it and when you will run it again it will be super fast.
Don't ever turn off WiFi once connected because then you will have to restart Android to get it working.
Unzip the .zip file and copy all the files in the root of the sd card.
If some of you have problems try Hard Reseting in WinMob then deleting all the files of android and Recopying from the computer.
Buttons Layout:
X Panel Button = Home Button
OK Button = Back Button
Left Softkey = Menu Button
Right Softkey = Standby & Lock Button
Call Button = Dialer Button
Call End Button = Standby & Lock Button
Volume Buttons = Volume Buttons
Power Button = Standby & Lock Button
Camera Button = Home Button
Instructions:
Unzip the .zip file using WinRAR or 7zip.
Then you will get a bunch of files.
Copy all the files in the root of the memory card.
dont copy them in a folder just in the root otherwise android will not work.
Run Haret from the File Explorer.
Then Run it again and it will be fast & stable.
Credits:
Thanks To Neopeek
Thanks To Duckly
Thanks To Chann
Thanks To XDANDROID
Thanks To Bruno_123
Thanks To Benquick
Thanks To Midnight
If you like my work buy me a coke